How Self-Advocacy Helped Me Thrive At Work
Written by: Elizabeth Knox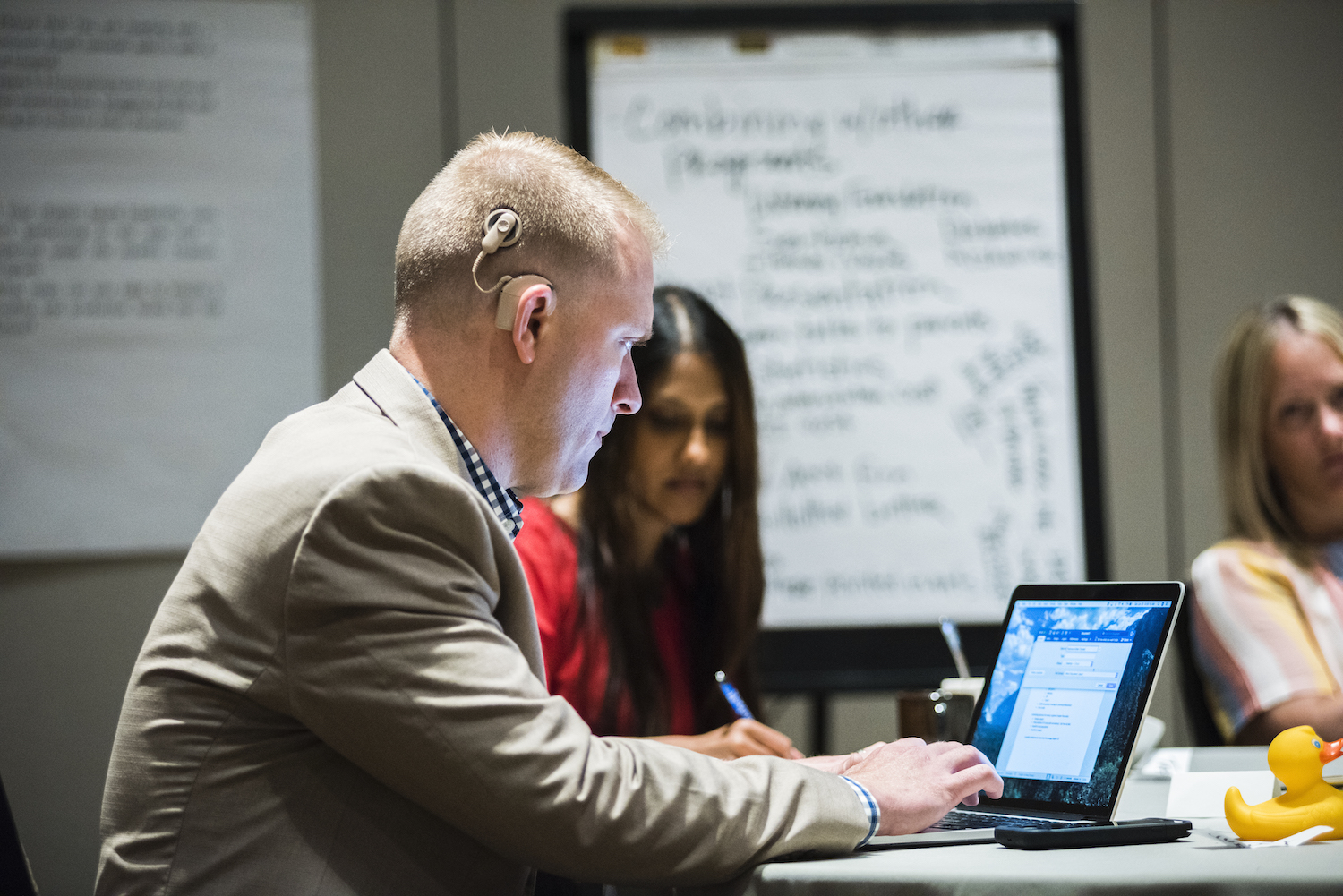 When I was eight-years-old, I wanted to be an "all-entologist," a word I made up to encompass my biggest dreams. I imagined a world where I pivoted between being an archaeologist, a paleontologist, a gemologist, and more. I imagined a dynamic career digging deep in the mud to solve the world's most ancient mysteries. I never imagined that this would not be possible. Indeed, my parents and teachers cheered every such pronouncement and gathered books and pictures to help satiate my curiosity. No one looked at me and told me that my profound hearing loss would stop me from accomplishing those things if they were what I chose.
As a nine-month-old baby, my parents enrolled me at Sunshine Cottage for Deaf Children, an oral education program in San Antonio. I was later mainstreamed into the public education system after kindergarten and was one of the few deaf students in my school district. My parents worked hard to teach me to self-advocate. I was at every Individualized Education Plan (IEP) meeting and had a lot of input into what my classroom accommodations would be and how they would be implemented. I have no doubt that this early and often involvement was formative. These self-advocacy skills serve me every day, and some are even rote at this point.
Ultimately, the sciences were not my path, and I learned that there is no such thing as an "all-entologist." If I had pursued any of those individual endeavors, I would have been looking at upwards of a decade of study. I graduated with a degree in communications from a small liberal arts college and then attended Harvard Law School, one of the largest law schools in the country—where, yet again, there were not many fellow students who were deaf. I made sure to reach out to the offices that provide accommodations well before school started at both institutions. During my undergraduate years, I used a note taker with an FM system in class, and during law school, I used CART, a real-time captioning system, with the FM system. CART enabled me to follow more of the complicated dialog that springs from the Socratic method. In my experience, I've found that many places want to make sure you get the necessary accommodations but may have limited experience and will need some time to sort everything out. By starting this process early, you increase the odds of having everything ready to go on the first day of class, which is invaluable when you are immersing yourself in new environments.
I like to think of self-advocacy as a practice, a cumulative one. My parents were my first models of how to advocate for someone with a hearing loss. They did not hide challenges from me. Rather, they included me in discussions about things that had gone wrong and asked what I thought some better approaches might be. If I was struggling in class, they included me in the parent/teacher conferences. I was young, but I quickly got a sense of how to change my situation by rearranging my environment so that I could access information as well as my peers. From my parents, I learned that there is seldom a problem that cannot be fixed.  
The more I practice self-advocacy, the more natural it seems. No one was surprised when I became a lawyer. Self-advocacy skills are transferable to many fields, but for me, they seem particularly well suited to lawyering and crafting arguments whether inside or outside of the courtroom. For example, I bought my husband tickets to a comedy show that was to be held in a theater owned by the City of Dallas. I reached out to the manager and asked about the process for requesting captioning. They had no process, so I had to escalate my inquiry up the chain at city hall. Ultimately the city understood that it was responsible under the ADA for captioning the event, but they came to that conclusion only after a significant amount of pressure from me. We had a fabulous evening, and it was absolutely worth the effort. A willingness to speak up for yourself is so important for achieving your communication access goals in school and work, including in your everyday life.
Every hearing loss is different, and people with a hearing loss will find that different accommodations serve them best. The ADA requires state and local governments to give primary consideration regarding communication preferences for the individual who is deaf or hard of hearing, which is why it is so important for children and young adults to experiment and learn what works best for them in different environments. Businesses and nonprofits are encouraged to work with people who are deaf and hard of hearing to find accessible solutions. And if you learn how to self-advocate, that skill can help you get the accommodations you need, no matter the situation.