Empowering Teens For Success
Written by: Monica Kastilani and Christopher Gensch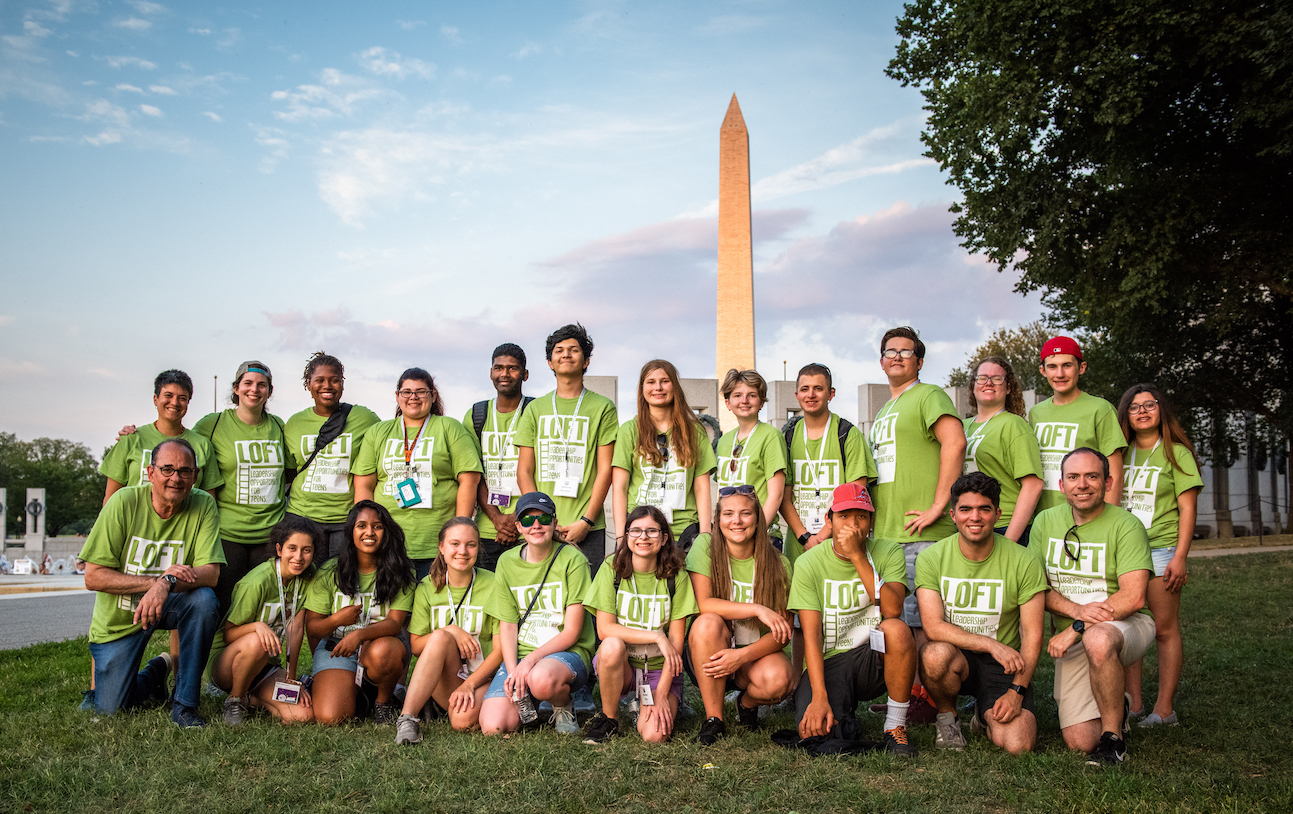 Five days. One hundred and twenty hours. And twenty high school teenagers who are deaf and hard of hearing from around the world join together for a jam packed week and leave with lifelong friendships.
Twenty-three years ago, Ken Levinson and Donna Dickman, former executive director of the Alexander Graham Bell Association for the Deaf and Hard of Hearing (AG Bell), introduced the Leadership Opportunities for Teens (LOFT program) at the AG Bell Convention in Utah. For a majority of kids who are deaf and hard of hearing, it is hard growing up feeling isolated. Levinson and Dickman wanted to fill a void by providing a support network for youth with hearing loss.
LOFT is an international program dedicated to shaping and transforming the lives of teens who are deaf and hard of hearing by teaching them valuable life skills, such as self-advocacy, self-confidence, leadership, and communication. The program is for high school students who are deaf and hard of hearing and use listening and spoken language as their primary mode of communication. Teens also learn about technology and financial literacy which helps prepare them for college and their career.
Empowerment Through Teamwork and Communication
This year's LOFT program was held at the Hyatt Place National Mall hotel in Washington, D.C. The bustle and excitement from first meetings and the long awaited reunions from LOFT graduates who have now become LOFT counselors give off an electric energy during the program. Throughout the week, teens participated in leadership activities and presentations that emphasize important traits needed as future leaders; including strategies and techniques that encourage teamwork, communication, and creativity.
A common theme that these teens tend to share is the challenges faced during group work in a noisy academic setting that can feel rather isolating. Unlike other leadership courses, LOFT caters specifically to leadership skills outside of an academic or work environment. LOFT teaches young adults how to advocate for themselves while providing an empowering environment that allows for mistakes. In fact, the intentionality of having all individuals who are deaf and hard of hearing gives them an advantage as they understand how to communicate with one another.
This year, LOFT participants got an amazing opportunity to meet Jonathan Hutcherson, a singer-songwriter who was a previous contestant on NBC's "The Voice." Hutcherson, who was born with moderate to severe hearing loss, came to talk about his experience growing up wearing hearing aids and his path to a career in music. At the end of his presentation, he performed three of his original songs for the group. Hutcherson's inspiring story left a big impression on the teens, serving as a great role model for them to look up to and to learn from on their journeys with hearing loss. A huge special thank you to Oticon for making this happen!
Empowerment Through Self-Advocacy
Through self-advocacy workshops, the teens discuss being deaf or hard of hearing in academic and social settings. These workshops allow for a positive dialogue about how teens should stand up for themselves and others. It is also a safe space for them to discuss their fears and worries growing up deaf or hard of hearing. Through these workshops, teens learn that their experiences are valid.
"This experience has been life-changing. I've never been in a room full of so many deaf people before. It definitely helped me feel less alone, and now I can be a better advocate for myself knowing what I've learned," said Abigail Mcgrane, a 2019 LOFT participant.
Stories like Abigail's are far from uncommon. Many times, the LOFT program is the first real outlet where teens meet someone else who can relate to the struggles and experiences of being deaf and hard of hearing.
"When the teens meet one another, there is an immediate connection, an immediate understanding, and an immediate relief from the day-to-day social battles of dealing with hearing loss," said LOFT co-founder Ken Levinson.
Many teens from current and previous sessions remark that, although their friends and families are supportive, it makes a huge difference to be in a room full of people who "get it." This program not only educates and encourages future leaders but also instills a sense of community. Everyone is able to relate to the challenges and issues that come with growing up in a "hearing" world. As a result, teens leave LOFT with the comfort of knowing that they will always have a huge community behind them for support throughout their academic and vocational careers.
Paying It Forward
The sense of community and support LOFT provides are a few of the reasons why so many alumni become counselors after the program. Ben Case, Jessica Hoffman, Jake Krevda and Hailey Walker are among the counselors for session one who found their LOFT experiences to be incredibly rewarding. Now as successful adults, they choose to return to "pay it forward" for the next generation.
Jessica Hoffman is currently an audiologist working in a clinic in New York City. Recently, she has been petitioning for better accommodations for audiologists who are deaf and hard of hearing working in the field. Although the barriers to accessibility continue to add challenges, Hoffman accredits LOFT and AG Bell for motivating her to continue using her self-advocacy skills in adulthood. Life after LOFT can seem daunting as the teens return to their daily routines, but time has shown that many come into successful careers in law, finance, teaching, psychology, among others.
For teens who are deaf and hard of hearing, learning to advocate for accessibility can be seen as difficult or unnecessary. LOFT encourages teens to embrace their deafness and to view it as a positive aspect of their identity. LOFT is inspiring many young adults to believe in themselves, while shaping bright future leaders. Rest assured, it is an experience that these young adults will never forget.
AG Bell extends a huge thank you to this year's LOFT sponsors.